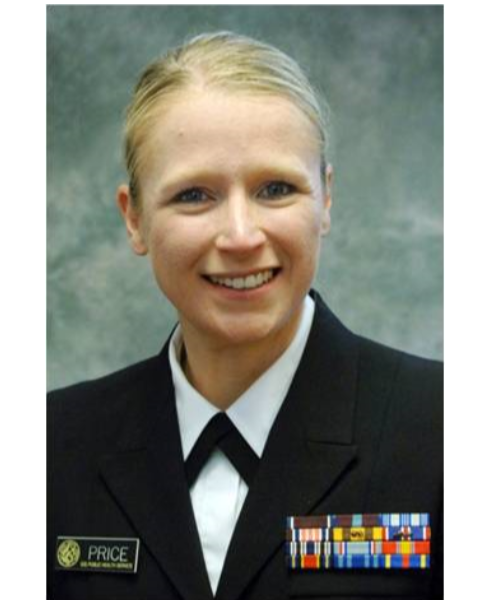 Janae D. Price, MPH
Epidemiologist, Centers for Disease Control and Prevention
CDR Price currently serves as a Centers for Disease Control and Prevention (CDC) Field Epidemiologist assigned to the Illinois Department of Public Health (IDPH) located in Springfield, IL. In this capacity, Janae leads multi-component, multi-disciplinary data collection and reporting efforts around chronic disease prevention and control. CDR Price develops and deploys surveys, leads focus group interviews, performs program evaluations, informs strategic planning efforts, and conducts complex projects for statewide programs including but not limited to; nutrition, physical activity, and obesity prevention, hypertension, heart disease and stroke, and diabetes.

Prior to her position at CDC, CDR Price served as the Acting Director for Wellness and Health Promotion Services at Federal Occupational Health (FOH) where she was responsible for the delivery of on-site and virtual wellness programs, health coaching, and/or fitness centers to more than 700,00 federal employees. CDR Price was with FOH for over five years where she also served in roles tied to planning and evaluation, quality improvement, integrated service delivery, program management, and led complex special projects such as return on investment studies.

CDR Price has served in other capacities throughout her 22 years of federal service; as a Food and Drug Administration field investigator in Biologics at the Chicago District Office and as a staff epidemiologist and Area Statistician for the Indian Health Service (IHS) where she is also a graduate of the IHS Injury Prevention Fellowship Program (class of 2007). CDR Price served eight years of active duty in the U.S. Air Force where she worked as a clinical and research laboratory technician in cellular immunology and molecular biology. She has four scientific publications and numerous conference posters/presentations and earned a B.S. in Health Science from Purdue University and an MPH in Epidemiology from Indiana University School of Public Health.