Close this panel
Efficacy of Preoperative Chlorhexidine Gluconate and Mupirocin in the Prevention of Orthopedic Surgical Site Infections
Gabrielle Kahler, B.S. – Medical Student, Loma Linda University School of Medicine
Michael Ing, MD – Section Chief, Infectious Disease Section (111M), J.L. Pettis Memorial VA Medical Center
Abstract:
Background :
Surgical site infections (SSIs) affect 1-5% of patients undergoing surgical procedures in the United States each year and have a mortality rate of up to 75%. We sought to assess the efficacy of a bundled preoperative decolonization treatment protocol to prevent SSIs in hip, knee, or spine procedures.
Methods :
A retrospective chart review was conducted for 2224 adult patients undergoing spine, knee, or hip procedures performed at the JL Pettis Memorial VAMC from October 1, 2010 to December 31, 2018. NHSN/CDC criteria were utilized. The study included spine surgeries with or without new hardware, but only hip and knee surgeries with new hardware. Procedures with an infection present at the time of surgery (PATOS) were excluded.
A pre-operative methicillin-resistant Staphylococcus aureus (MRSA) nares screen was performed. Patients treated were given mupirocin (MPN) to apply to their nares and 4% chlorhexidine gluconate (CHG) to wash all skin prior to the procedure. Patients undergoing emergent procedures received CHG without MPN.

The intention to treat model and chi square test were utilized. The primary end points were the infection rates in both the untreated and treated groups. Secondary end points included the MRSA screening result, SSI class, causative organism(s), and the surgical site.
Results :
A total of 2112 procedures were included in the study. Thirty-three (1.56%) procedures met NHSN/CDC criteria for SSI. Of the 1754 (83.0%) procedures given decolonization treatment with MPN and/or CHG, 22 (1.25%) developed an SSI. Of the 358 procedures not receiving treatment, 11 (3.07%) developed an SSI.
Conclusion :
Patients given decolonization treatment had a lower infection rate compared to those who were not treated (1.25% versus 3.07%, p = 0.0115). Even though the decrease in infection rates were most significant for hip procedures, the overall trend favored the use of a preoperative decolonization treatment protocol for all of the orthopedic procedures studied (Table 1). Current barriers include patient compliance and correct use of decolonization agents, which may affect the actual efficacy of decolonization treatment. A possible confounder was the known increased risk of SSIs in emergent procedures.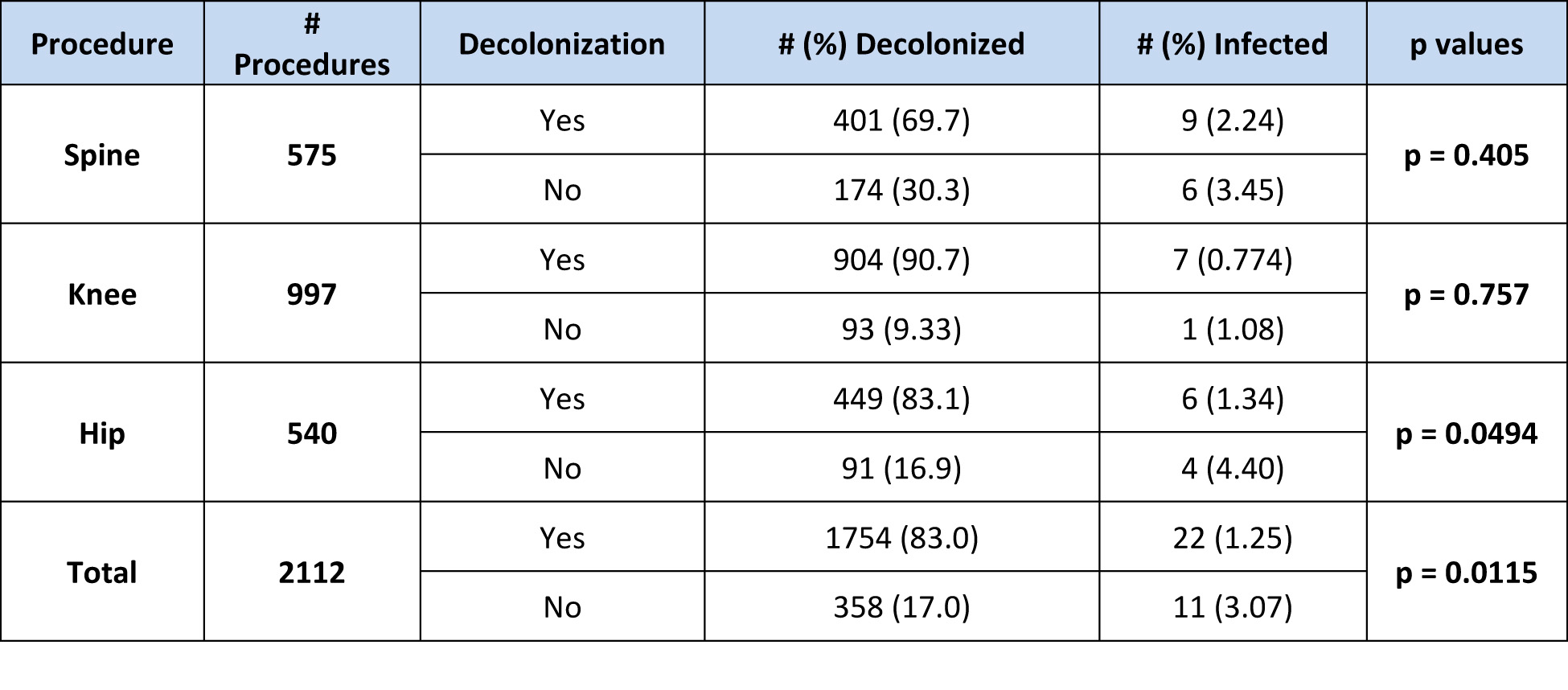 Primary Author: