Close this panel
Review of Implant Surgical Site Infections and Staphylococcus aureus Screening Compliance for 2018 at a Large Health Care System
Stephanie Strollo, MD – Infectious Diseases Physician, Atrium Health
Catherine Passaretti, MD – Medical Director Infection Prevention/Associate Professor, Atrium Health
Abstract:
Background :
Surgical site infections (SSIs) following hip arthroplasty (THA), knee arthroplasty (TKA) and spinal fusions result in substantial morbidity, mortality and increased cost.  Guidelines recommend preoperative Staphylococcus aureus (SA) screening and decolonization however there are numerous logistical challenges with implementing this process.  We reviewed compliance with SA screening and decolonization practices and relation to THA, TKA and fusion SSI performance
Methods :
Preoperative SA screening programs and associated data was reviewed for THA, TKA and fusion procedures between September and December 2018 across 9 hospitals in a large healthcare system.  Compliance with preoperative SA screening was counted if SA nares culture or polymerase chain reaction (PCR) was completed at any point in the 28 days prior to surgery.  This SA screening compliance snapshot was compared to year end 2018 SSI rates per 100 procedures and National Health Safety Network (NHSN) all SSI Standardized Infection Ratio (SIR).   All 2018 SSIs were reviewed to determine if infection was due to SA and for compliance with preoperative SA surveillance. 
Results :
Overall preoperative SA screening compliance for September through December 2018 was 49% (32%, 54% and 62% for fusions, THA and TKA respectively).  69 implant related SSIs were identified in 2018.  33% were due to SA.  2018 all SSI rate per 100 procedures was 0.78 (1.437 with SIR of 1.05, 0.783 with SIR of 0.67, and 0.315 with SIR 0.45 for fusions, THA and TKA respectively).   Only 36 % (25/69) of all SSI and 30% (7/23) of SA SSIs had preoperative SA screening completed. (Table 1).   While overall preoperative SA screening compliance was poor, day of surgery SA screening with immediate decolonization using nasal iodine was 75% compared to 58% and 44% for those screened at preoperative medical visit or by surgeon order.  
Conclusion :
One third of our implant surgeries were complicated by SSIs due to SA.  Overall compliance with preoperative SA screening was poor however SSI rates trended down with higher preoperative SA screening compliance.  Better operationalization of preoperative SA screening programs or further data on impact of day of surgery screening and immediate decolonization are needed.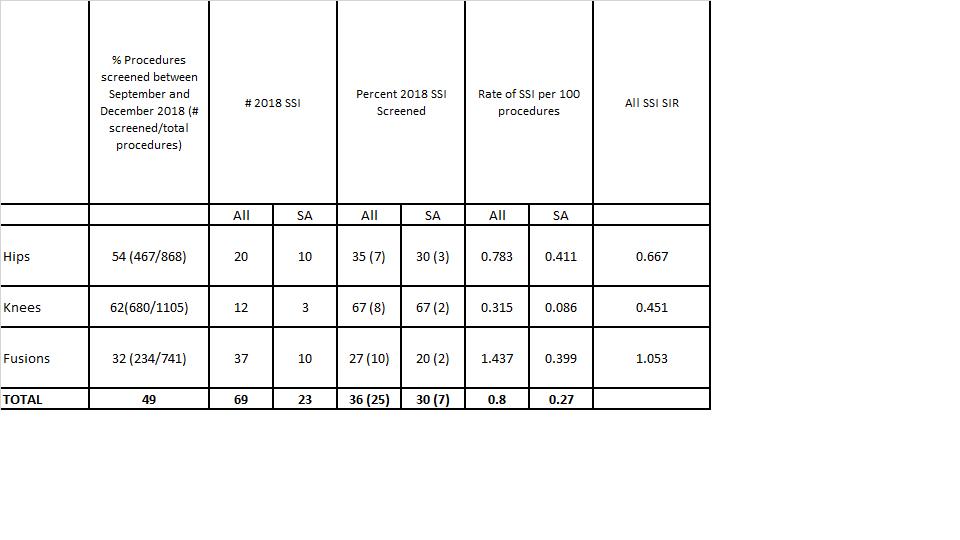 Primary Author: