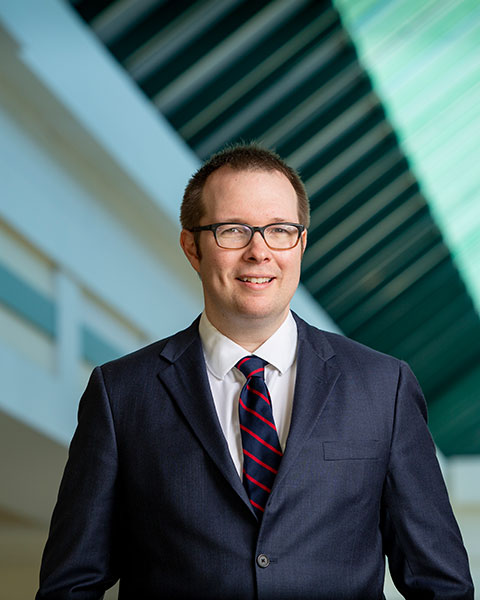 James K. Rustad, M.D.
Assistant Professor of Psychiatry, Geisel School of Medicine at Dartmouth
Dr. James Rustad is Assistant Professor of Psychiatry at Geisel School of Medicine at Dartmouth and a psychiatrist at the White River Junction VA Medical Center. He is Clinical Assistant Professor of Psychiatry at Larner College of Medicine at the University of Vermont. He completed his fellowship in Consultation Psychiatry at Massachusetts General Hospital/Harvard Medical School. Dr. Rustad serves on the Academy of Consultation-Liaison Psychiatry Residency Education Subcommittee, which focuses on mentorship of residents and recruitment into the subspecialty on a national level. On a local level, Dr. Rustad has incorporated evolving models of behavioral health integration in primary care into his clinical and teaching practice. White River Junction is a pioneer in Primary Mental Health Care (PMHC) at the VA, and Dr. Rustad has built on this strong foundation by training residents to practice in a cutting-edge integrated care setting at the Burlington Lakeside Community-Based Outpatient Clinic. In addition, he is a Psychiatrist on the Consultation-Liaison (CL) Service at the White River Junction VAMC.

Dr. Rustad has co-authored over ten peer-reviewed journal articles and three book chapters related to Consultation-Liaison Psychiatry. Most recently, he co-authored "Advancing the Mission of Consultation-Liaison Psychiatry Through Innovation in Teaching" with Dr. Ted Stern in Psychosomatics. The authors advocated for the use of new teaching methodologies and technologies (e.g., teaching rotations, simulations, social media, podcasts, movie clubs and mobile tablet computers) in Consultation-Liaison psychiatric education. Dr. Rustad has presented at the annual meetings of APA and CLP on CL-related topics.