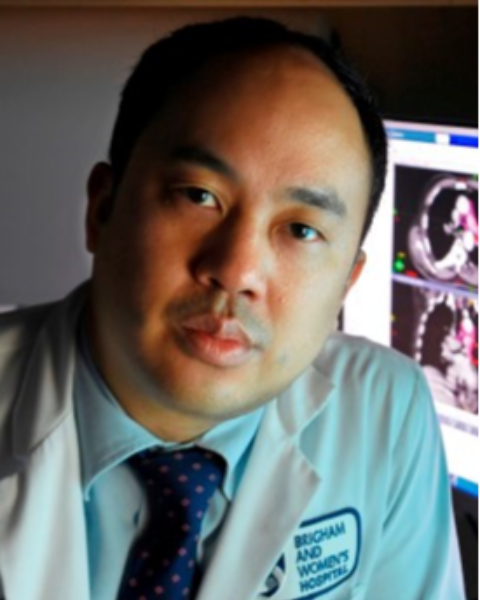 Raymond Mak, MD
Dana-Farber Cancer Institute
Disclosure:
Employment
Brigham and Women's Hospital/Dana-Farber: Associate professor: Employee

Compensation
AstraZeneca: Advisory Board: Relationship ended 12/31/2018;
NewRT: Honoraria: Travel Expenses: Relationship ended 03/31/2018
Biography:
RAYMOND H. MAK, MD
Dr. Mak is an Associate Professor of Radiation Oncology at Harvard Medical School, and he has clinical expertise in the treatment of thoracic cancers such as lung cancer and mesothelioma, and in advanced radiation techniques including stereotactic body radiation therapy and magnetic resonance imaging (MRI)-guided radiation therapy. Dr. Mak has several leadership roles in the Department of Radiation Oncology at Dand-Farber/Brigham and Women's Cancer Center including serving as Radiation Oncology Disease Site Leader for the Thoracic Oncology Program, Director of Stereotactic Body Radiation Therapy, Director of Patient Safety and Quality, and Director of Clinical Innovation.

In these roles, Dr. Mak has led an effort to design and implement a MRI-guided radiation therapy program at BWH/DFCI, including a MRI-guided linear accelerator and a MRI simulator, which are innovative technologies that will revolutionize the way radiation therapy is delivered in New England.

His translational research has improved the understanding of how genetic factors in lung tumors influence the way that patients respond to radiation and his pioneering work in applying artificial intelligence techniques to medical imaging of lung cancer is improving outcome prediction and the of quality and efficiency of radiation therapy planning—work that has received funding from prestigious foundations such as the Radiological Society of North America and the National Institutes of Health.

Dr. Mak's efforts in the clinic and research activities share a common theme of developing innovative, cutting edge tools to improve radiation therapy for cancer patients by combining translational research work on genetic and imaging biomarkers paired with leadership in technology development and implementation in the clinic. Dr. Mak's desire to ensure that his patients have the best possible outcomes informs his unique approach to treatment and research.

Presentation(s):