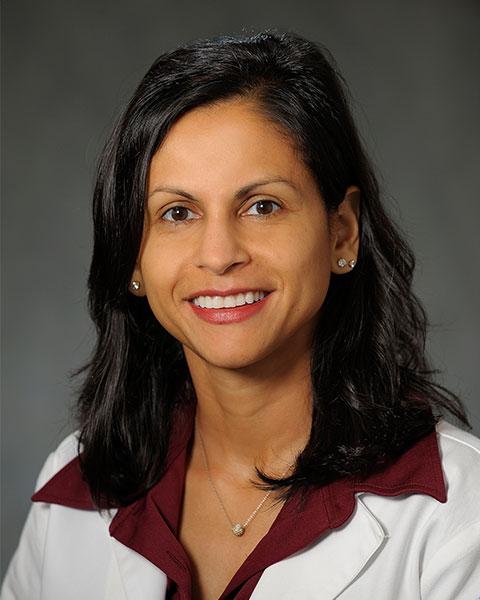 Neha Vapiwala, MD
University of Pennsylvania Health System
Biography:
Dr. Vapiwala is an Associate Professor and Vice Chair for Education in the Department of Radiation Oncology. She specializes in the management of patients with genitourinary (GU) cancers, serving as the department's first Chief of GU Oncology. She has served as the Principal Investigator of multiple therapeutic trials for prostate cancer patients, including a role as Project Leader on a Department of Defense Program Project grant investigating proton therapy. She has also secured extramural funding to develop prognostic and predictive biomarkers for novel radiosensitizers and molecular imaging tools, as well as to explore the effect of integrative medicine as a therapeutic intervention for disease- and treatment-related symptoms. Dr. Vapiwala also holds leadership positions in multiple national and cooperative group committees in GU oncology, and presently serves on the NCI Prostate Cancer Task Force as well as the ECOG-ACRIN GU Early Modality committee in the role of Co-Chair. She was also recently appointed to the editorial boards of JAMA Oncology and the International Journal of Proton Therapy.

Dr. Vapiwala also has a strong interest in medical education. In July 2017, she was promoted to the position of Assistant Dean of Students at Perelman School of Medicine, and serves on the Executive Committee of the National Association of Directors of Radiation Oncology Programs and as Vice Chair of the Accreditation Council for Graduate Medical Education's Residency Review Committee.

Dr. Vapiwala graduated from Johns Hopkins University with a double major in Biology and Hispanic Studies. Upon completing her undergraduate studies early, she taught high school math and science for a year before matriculating at the Perelman School of Medicine at the University of Pennsylvania on a full-tuition, merit-based scholarship. She completed her residency training including service as the Chief Resident in the Department of Radiation Oncology at University of Pennsylvania.

Presentation(s):