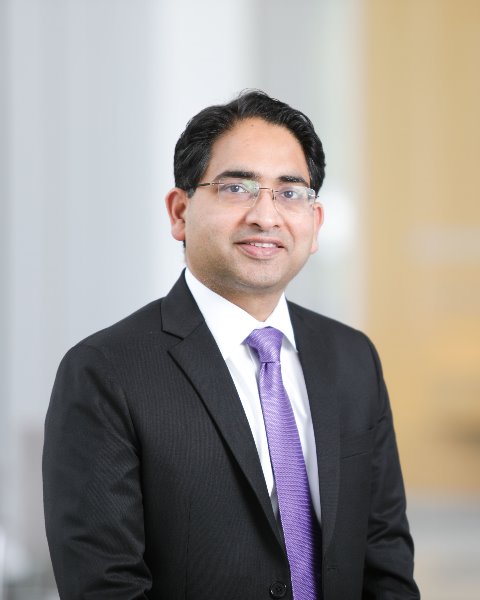 Manmeet Ahluwalia, MD
Cleveland Clinic
Disclosure:
Employment
Cleveland Clinic
Biography:
Manmeet Ahluwalia, MD, FACP is the Dean and Diane Miller Family Endowed Chair in NeuroOncology in the Rose Ella Burkhardt Brain Tumor and Neuro-Oncology Center (BBTC) where he subspecializes in treatment of patients with brain tumors and brain metastases. He is a Professor in the Department of Medicine, Clinic Lerner College of Medicine of Case Western Reserve University (CCLCM). He serves as the Director, Brain Metastasis Research Program and the Associate Director and Head of Operations in the BBTC of the Neurological Institute of Cleveland Clinic. He has joint appointments in the Taussig Cancer Institute, Cleveland Clinic and in the Developmental Therapeutics Program, Case Comprehensive Cancer Center.
Dr. Ahluwalia's research focuses on the development of new therapies for patients with brain tumors and brain metastases. He is currently leading several clinical trials involving immune therapies including vaccines, viral based therapies and immune check point inhibiters as well as targeted therapies. His results have been presented nationally and internationally and have resulted in over 150 editorials, manuscripts and book chapters. Dr. Ahluwalia serves as the Associate Editor on Tumor Section of Neurosurgery, the official Journal of Congress of Neurological Surgeons (CNS). He is the Associate Editor of ASCO Post, the newsletter of ASCO. He is the Section Editor of NeuroOncology for HemOnc Today.
Dr. Ahluwalia has been recipient of several prestigious awards such the National Cancer Institute/ CTEP Career Development Award for Clinical Trial in American Brain Tumor Consortium (ABTC), American Society of Clinical Oncology (ASCO) Leadership Development Program award, Crain's 40 Under 40 award and has been nominated to the Leading in Healthcare, Cleveland Clinic.
Dr. Ahluwalia received his MD degree from the Maulana Azad Medical College, University of Delhi. He completed his residency at Fairview General Hospital and fellowship training at the Roswell Park Cancer Institute.

Presentation(s):