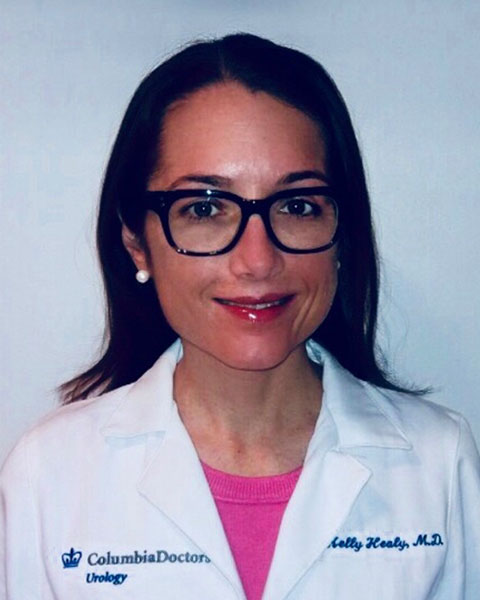 Kelly A. Healy
Assistant Professor of Urology
New York Presbyterian-Columbia University Medical Center
Kelly A. Healy, MD, FACS, is an Assistant Professor in the Department of Urology at Columbia University Medical Center in New York, NY. She specializes in the medical and surgical management of nephrolithiasis as well as endoscopic treatment of upper urinary tract tumors.

Dr. Healy earned her medical degree from Emory University School of Medicine in Atlanta, Georgia. She completed a General Surgery internship and Urology residency at Emory. She completed an Endourology fellowship at Thomas Jefferson University in Philadelphia, Pennsylvania and then served as an Assistant Professor. Dr. Healy then joined the faculty at Columbia and treats complex kidney stone disease at the multidisciplinary Kidney Stone Center.

Her research interests include dietary and medical therapy for kidney stone prevention, stone surgical outcomes, and ureteroscopic treatment of upper tract urothelial carcinoma.

Dr. Healy is a member of the American Urological Association (AUA), Endourological Society, Society of Women in Urology, ROCK Society, Association of Women Surgeons, and Fellow of the American College of Surgeons. She is a Board member of the Public Education Council and Chair of the Kidney and Adrenal Health Committee of the Urology Care Foundation of the AUA.

Presentation(s):