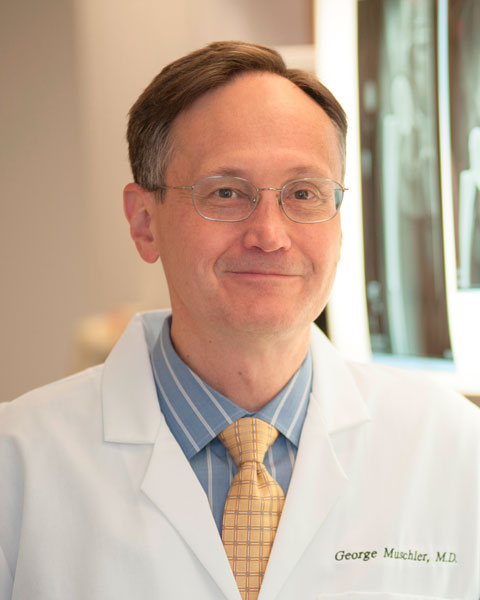 George F. Muschler
Orthopaedic Surgeon and Director of Regenerative Medicine - Cleveland Clinic, Lerner Research Institute
Cell X Technologies
Dr. Muschler is an Orthopaedic Surgeon and Clinician-Scientist at the Cleveland Clinic.
His clinical practice integrates complex adult reconstructive surgery, joint preservation, and bone and cartilage repair. Dr. Muschler also leads a research laboratory focusing on stem and progenitor cell biology, aging, tissue engineering and regenerative medicine, which has earned continuous federal funding for 18 years.

Dr. Muschler served as Vice Chair of the Cleveland Clinic Department of Bioengineering (2004-2013); Director of the Orthopaedic Research Center (2005-2013, embracing clinical and basic musculoskeletal research across 13 departments), and as Vice Chair of the Orthopaedic and Rheumatologic Institute (2007-2013).

Dr. Muschler was the leader in the development of several multi-institutional collaborative translational networks, founding and leading the Ohio-based Clinical Tissue Engineering Center (2005-2012), and serving as the founding Co-Director of the Armed Forces Institute of Regenerative Medicine (AFIRM) (2008-2011), a national network funded by the Department of Defense and dedicated to the accelerated development of improved therapies to serve wounded warriors.

Dr. Muschler earned his undergraduate degree in Chemistry at the University of Illinois in Champaign-Urbana and his M.D. at Northwestern University School of Medicine in Chicago, Illinois. He completed his residency in Orthopaedic Surgery at the University of Texas Southwestern, Dallas, Texas, and fellowships at Memorial Sloan Kettering Cancer Center and the Hospital for special Surgery in New York.

Presentation(s):