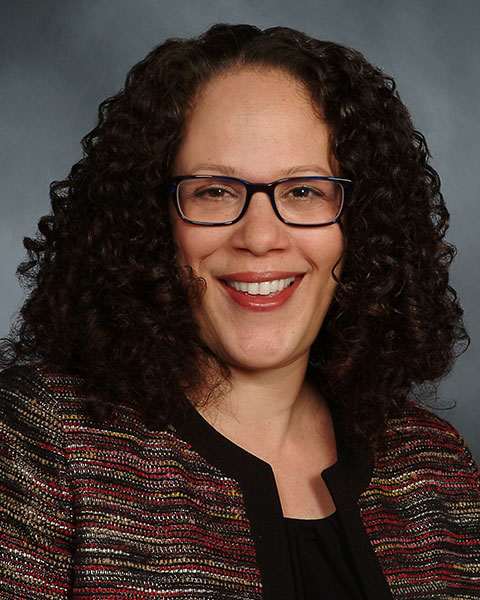 Diana Delgado, AHIP
Associate Director, Information, Education and Clinical Services
Samuel J. Wood Library & C.V. Starr Biomedical Information Center
New York, New York
Diana Delgado serves in the position of Associate Director, Information, Clinical and Education Services at the Samuel J. Wood Library at Weill Cornell Medicine (WCM). In her leadership role she directs both the short and long-term direction of the Library and participates in decision-making related to strategic planning, renovations, assessment, budgetary issues, staffing needs, and efficiency. Diana manages circulation, reference, interlibrary loan, education, scholarly communication, clinical, and patient services. She coordinates the implementation of a range of programs, combining innovative and traditional library services to support WCM's research, clinical, and educational missions.

She and her team provide a number of services, including, expert literature searching, evidence based practice (EBP) education, techniques on navigating the world of publishing, and research skills workshops, to a range of health professionals and students WCM and NewYork-Presbyterian Hospital community.

Diana created and manages a systematic review service, made up of a team of library faculty and an information specialist. She and her team have co-authored 20+ reviews on varied topics including pediatric kidney dieseases in Sub-Saharan Africa, effects of health information technology on patient outcomes, and using imaging techniques to detect risk of stroke. Her expertise in systematic reviews include formulating questions, protocol development, identifying and translating terms across multiple databases, collecting data from applicable resources, organizing references using bibliographic management tools, identifying relevant guidelines, and authoring search methodology.

Diana co-teaches EBP as part of the first and third year medical students' curriculum and has been invited to speak on research skills, EBP, and systematic reviews, within the graduate school and at a number of programs including WCM Health Professions Recruitment and Exposure Program, Mentored Clinical Research Training Program and the WCM Annual Nursing Research Symposium.

Diana Delgado, 2017 Estelle Brodman award winner, is an active member of MLA and is currently the MLA NY-NJ Chapter Chair. From 2009-2011 she was an associate editor of the Journal of the Medical Library Association, an international, peer-reviewed journal.

Presentation(s):