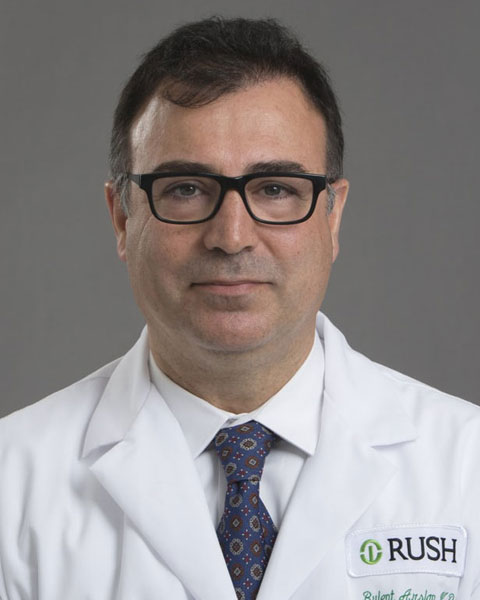 Bulent Arslan
Director, Vascular & Interventional Services
Rush University Medical Center
Rush University
Bulent Arslan, M.D., earned his medical degree at Marmara University in Istanbul, Turkey. He completed a residency in diagnostic radiology and a fellowship in vascular and interventional radiology at University of Rochester Medical Center, NY. Before joining Rush in 2012, he served as Associate Professor of Radiology & Interdisciplinary Oncology at University of South Florida College of Medicine, Tampa. Previously, he served as Assistant Professor of Radiology at University of Virginia Health System, Charlottesville, and at University of Arizona, Tucson.

Dr Arslan is certified by the ABR in Diagnostic Radiology with CAQ in Vascular & Interventional Radiology. His clinical interests include aortic and peripheral vascular interventions, endovascular treatment of complex abdominal, thoracic, thoracoabdominal and arch pathologies and endovascular tibio-pedal recanalization procedures for critical limb ischemia.

An active researcher, Dr. Arslan has participated in more than 20 clinical trials and has authored more than 120 peer-reviewed articles and abstracts, as well as several book chapters. A frequent speaker, he has been an invited lecturer at more than 150 regional, national, and international medical conferences.

He has also served as a live case presenter at national and international meetings, including VIVA, TCT, C3 and VEITH. As an industry consultant, he has served as a advisory board member and speaker for multiple medical device companies.
Dr. Arslan is a fellow of SIR and a member of ARRS, RSNA, CIRSE, NANETS, ISNVD, and AMA.

He currently serves as a reviewer for the Journal of Vascular and Interventional Radiology, CardioVascular and Interventional Radiology, and Neurosurgery.

Presentation(s):