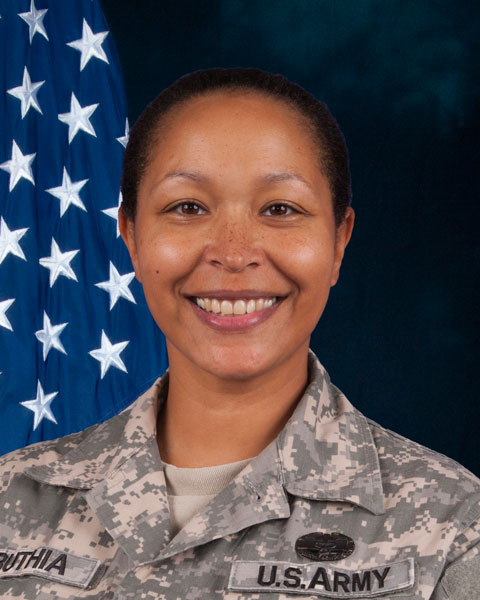 Jennifer Mbuthia
Director of Telemedicine/Virtual Health
Tripler Army Medical Center
Lieutenant Colonel Jennifer Mbuthia is currently stationed at Tripler Army Medical Center (TAMC), Hawaii, and has served as Director of the Pacific Asynchronous TeleHealth (PATH) Program in January 2016 and TAMC Director for Telehealth/Virtual Health since June 2017. PATH serves as the asynchronous telemedicine consultation and patient movement for the Pacific Region.
LTC Mbuthia earned both her Bachelor of Science degree in biology and her Medical Degree from Brown University in Providence, RI. She entered military service as a medical student through the Health Professionals Scholarship Program. After completing her residency in Pediatrics at TAMC, she was assigned to both Landstuhl Regional Medical Center, Germany, and Fort Irwin, CA, as a general pediatrician. LTC Mbuthia completed her fellowship in Allergy and Clinical Immunology at Walter Reed Army Medical Center, Washington, DC, and then served as a Medical Director for the Vaccine Healthcare Centers Network (now the DHA Immunizations Healthcare Branch).
In 2011 she was selected by the 43rd Army Surgeon General, Lieutenant General Patricia Horoho, to serve as a member of her Commanders Initiative Group, followed by an assignment as the first Army physician to work in the Army Medicine Congressional Affairs Office.
LTC Mbuthia has multiple deployments to include as a Battalion Surgeon with 1st Infantry Division in Iraq for 12 months, a Battalion Surgeon with 101st Airborne Division in Afghanistan for 6 months, and multiple humanitarian deployments to locations in Southeast Asia and Central America. Her awards include the Bronze Star, Meritorious Service Medal, Army Commendation Medal, Joint Service Achievement Medal, Army Presidential Unit Citation Ribbon, Humanitarian Service Medal, Global War on Terrorism Expeditionary Medal, Afghanistan Campaign Medal, NATO Medal, and the Combat Medic Badge.

Presentation(s):