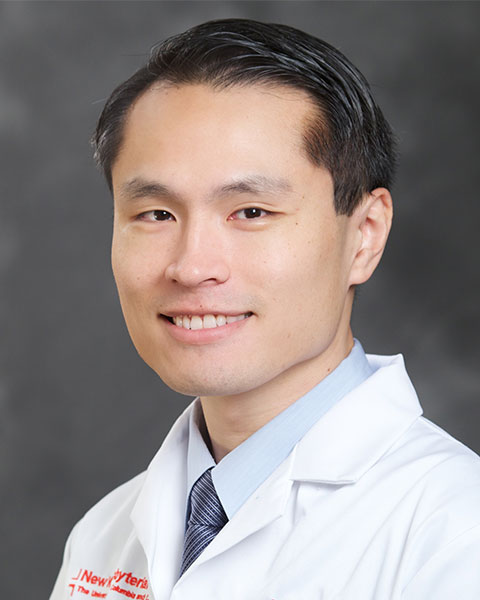 Tony Wang, MD
Columbia University Medical Center
Disclosure:
Employment
Columbia University Medical Center: Physician: Employee

Compensation
Abbvie: Consultant, Travel Expenses; American Cancer Society North Jersey: Advisory Board; Doximity: Consultant; Elekta: Consultant, Honoraria, Travel Expenses; Merck: Consultant; Wolthers Kluwer: Honoraria

Ownership
Doximity: Stock Options
Biography:
Tony J. C. Wang, M.D., is the Co-Director of the Center for Radiosurgery and an Associate Professor of Radiation Oncology (in Neurological Surgery) at New York Presbyterian/Columbia University Medical Center. He is recognized nationally for his extensive expertise in malignant and benign brain tumors. His research interests are in Gamma Knife stereotactic radiosurgery and brain tumors resulting in over 50 peer-reviewed publications. He has given over 50 invited lectures and visiting professorships nationally and internationally.

He serves on several national and international working groups developing guidelines for brain tumor management and stereotactic radiosurgery. He is an editor for 2 radiation oncology textbooks and a writer for over 15 book chapters. He serves as an Associate Editor on the Radiation Oncology Section of Neurosurgery, the official journal of the Congress of Neurological Surgeons, and as a reviewer for International Journal of Radiation Oncology, Biology, and Physics, Practical Radiation Oncology, and Journal of Neuro-Oncology as well as many others.

Dr. Wang received his B.A. and M.D. degrees from University of Missouri Kansas City Medical School, during which time he was also a Clinical Research Training Program Fellow at the National Institutes of Health, Bethesda, Maryland. He received internship training at Flushing Hospital Medical Center. Dr. Wang received his radiation oncology training at New York Presbyterian Hospital (Columbia campus), where he was Chief Resident from 2011-2012.

As a member of the Brain Tumor Center and Pituitary Tumor Center at Columbia, Dr. Wang is part of a multidisciplinary team that brings expertise from multiple specialties, including neurosurgery, neuro-oncology, neuroradiology, and neuro-endocrinology.
Presentation(s):