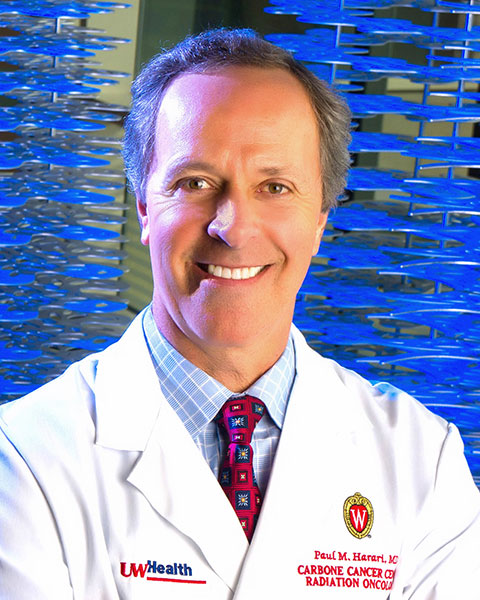 Paul Harari, MD, FASTRO
University of Wisconsin Hospitals and Clinics
Disclosure:
Employment
University of Wisconsin: Professor and Chairman: Employee

Leadership
ASTRO Board of Directors: Member
Biography:
As professor and chairman of the UW Department of Human Oncology, principal investigator for the Wisconsin H&N SPORE Grant and member of the UW Carbone Cancer Center Senior Leadership Council, I facilitate the interaction of investigators involved in basic, translational and clinical cancer research activities. I'm committed to the leadership of multidisciplinary clinical, teaching and research teams.

The overall theme of my clinical and laboratory research is to improve treatment outcome for patients with head and neck cancer (HNC). Areas of particular research emphasis include the interaction of molecular growth inhibitors combined with radiation and the use of conformal radiation treatment techniques to limit normal tissue toxicity. I serve as PI for a recently funded SPORE Grant in HNC at the University of Wisconsin and direct one scientific project as well as the Administrative Core within the SPORE Grant. I have previously served as PI for NIH R29 and R01 laboratory research grants investigating HNC response and resistance mechanisms in combination with radiation. I have been an active RTOG HNC Committee member for more than 20 years (now NRG) and serve as PI or co-PI for a series of national and international HNC trials.

Serving currently as president of ASTRO, a focus is to illuminate the power and precision of radiation to heal, to cure, to image, to improve human health and quality of life. We convey this message most through storytelling, the passionate stories of patients and families whose lives have been saved or extended by the expert application of radiation. A unique and highly appealing aspect of radiation oncology is the opportunity for close collaboration between technology, biology and clinical medicine. Never have the prospects for impactful advances in our field been so bright, and many of these advances involve multi-investigator teams, working together to achieve new milestones.
Presentation(s):