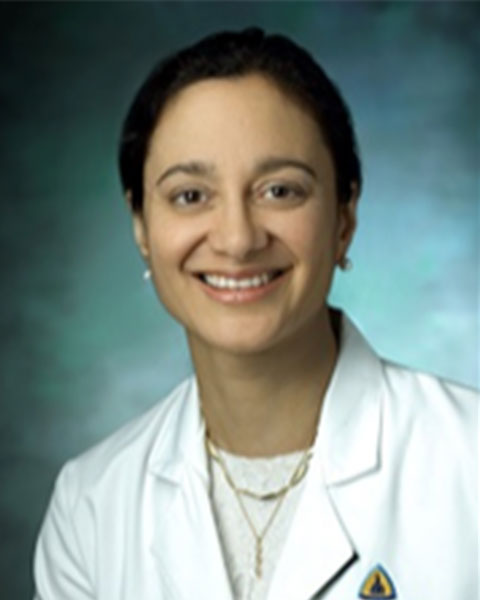 Akila Viswanathan, MD, MPH
Johns Hopkins Medicine
Disclosure:
Employment
Johns Hopkins University: Executive Vice Chair, Radiation Oncology: Employee
Biography:
Akila Viswanathan, M.D., M.P.H.
Professor and Executive Vice Chair
Director of National Capital Region
Director of Gynecological Radiation Oncology

Dr. Viswanathan is a radiation oncologist specializing in the clinical care of patients with gynecologic cancers at both the Johns Hopkins Kimmel Cancer Center at the Johns Hopkins Hospital and at Sibley Memorial Hospital. An expert in her field, Dr. Viswanathan has published more than 130 articles and chapters, with her primary clinical and research interests focused on gynecologic malignancies, uterine cancers, and image-guided brachytherapy. She obtained her undergraduate degree at Harvard University, her medical degree at the University of Pittsburgh School of Medicine, her Masters in Public Health and Masters in Epidemiology at the Harvard School of Public Health, and completed her residency in radiation oncology at the Joint Center for Radiation Therapy, Harvard Medical School.

In addition to her clinical duties, Dr. Viswanathan has held leadership positions as the President and Chair of the Board for the American Brachytherapy Society and currently serves as the Chair of the Education Committee for the American Society for Radiation Oncology. She serves on the committees of the Gynecologic Cancer InterGroup and the Gynecologic Cancer Steering Committee for the National Cancer Institute. She is on the editorial board of Gynecologic Oncology and Brachytherapy, and is an editor of the text Gynecologic Radiation Therapy: Novel Approaches to Image-Guidance and Management. She was also named one of "America's Top Doctors" in Newsweek for several years.

Presentation(s):