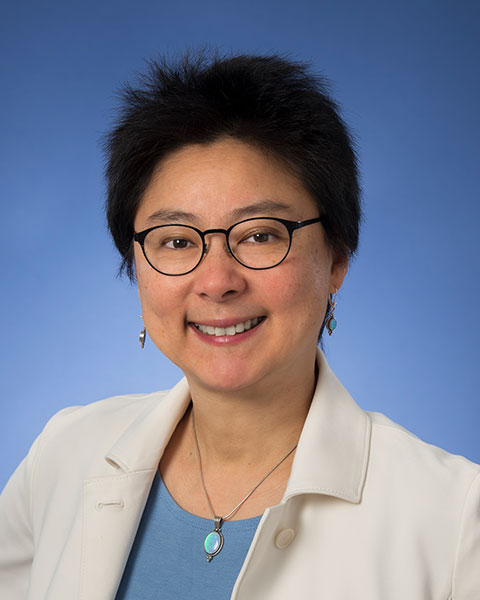 Fei-Fei Liu, MD
Princess Margaret Cancer Centre
Disclosure:
Leadership
Princess Margaret Cancer Centre - RMP: Chief; University of Toronto - DRO: Chair
Biography:
Dr. Fei-Fei Liu, MD, FRCPC

Dr. Fei-Fei Liu is the Chief of the Radiation Medicine Program and Head of the Department of Radiation Oncology at the Princess Margaret Cancer Center. She is also the Professor and Chair of the University of Toronto Department of Radiation Oncology.

Dr. Liu is a Senior Scientist at the Princess Margaret Cancer Center Research Institute, and holds the University of Toronto/Princess Margaret Cancer Center Dr. Mariano Elia Endowed Chair in Head & Neck Cancer Oncology.

Dr. Liu's research program has been focused on investigating and developing novel molecular therapeutic strategies for human malignancies, delivered in conjunction with radiation therapy, as well as investigating molecular aberrancies of several human cancers including breast, cervix, nasopharyngeal, and head/neck cancers. Dr. Liu has >180 peer-reviewed publications on these topics, and has filed three patents. She holds peer-reviewed research funding from highly competitive agencies such as the Canadian Institutes of Health Research (CIHR), and the Canadian Cancer Society Research Institute (CCSRI). She is also the Founder of a CIHR/Terry Fox Foundation Research Training Initiative, entitled "Excellence in Radiation Research for the 21st Century (EIRR21)", which has trained >150 trans-disciplinary scientists in Radiation Medicine since 2003. She has been the recipient of several awards such as the "Women of Action" from the Israel Cancer Research Fund, as well as Distinguished Lectureships from Canadian Association of Radiation Oncology, University of Hong Kong, and University of California, San Francisco. Recently, Dr. Liu's lab has been focusing on understanding the biological basis of radiation fibrosis, and developing strategies to mitigate this significant post-radiation morbidity.
Presentation(s):