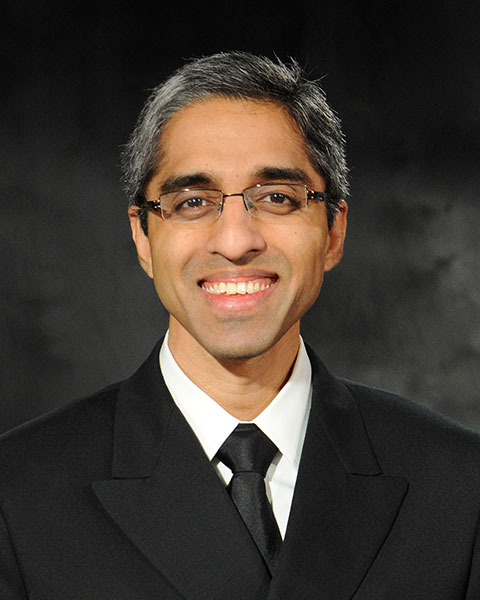 Vivek H. Murthy, M.D., M.D.
19th Surgeon General of the United States (2014-2017)
Dr. Vivek Murthy served as the 19th Surgeon General of the United States (from December 2014 to April 2017). As The Nation's Doctor, he brought both passion and innovation to the challenges of leading America's national healthcare initiatives.

Leadership and innovation. Throughout his career, Dr. Murthy has led the way in medical education, social action, and healthcare dialogue. He has co-founded several healthcare community organizations and grass¬roots citizen movements, including Visions, a peer-to-peer HIV/AIDS education program in India and the United States that reached tens of thousands of students and Swasthya, a community health partnership that trained women in small villages in India to become healthcare providers and educators. He also co-founded TrialNet¬works, a software company that developed collaborative technology for accelerating clinical trials, and a nonprofit organization, Doctors for America, that organized physi¬cians in all 50 states to advocate for high quality, afford¬able health care for all.

As the Surgeon General, he issued the first Surgeon General's Report on Substance Use and Addiction, calling the nation to action to address this deadly disease. He launched the national TurnTheTideRx campaign to address the opioid crisis, and he was the first Surgeon General to issue a letter to health professionals across America calling them to action to reduce opioid addiction and overdose deaths. His final Surgeon General's Report was on E-cigarettes and Youth and was the first federal report on the topic. As Vice Admiral of the Public Health Commissioned Corps, Dr. Murthy was the youngest active duty flag officer in federal uniformed service.

The future of healthcare. Dr. Murthy brings a unique, nonparti¬san perspective and deep experience to the debate about health¬care reform. He understands the concerns of all the stakeholders and how the system works — and how it could work better.

Health and well-being. Dr. Murthy emphasizes emotional well-being as the unexpected key to a healthier and stronger America. He talks about the science behind emotional well-being and its implications for the addiction crisis in America, chronic disease, community violence, education, creativity, workplace productivity, and educational outcomes.

Other topics. Dr. Murthy speaks with unique authority on the challenges and opportunities regarding the nation's health, includ¬ing the opioid addiction crisis, gun violence, the effect of climate change on our health, physician burnout, and the promise of technology in the future of healthcare.

Credentials. Before serving as Surgeon General, Dr. Murthy practiced and taught internal medicine at Brigham and Women's Hospital and Harvard Medical School. He also has an MBA from Yale.
Presentation(s):