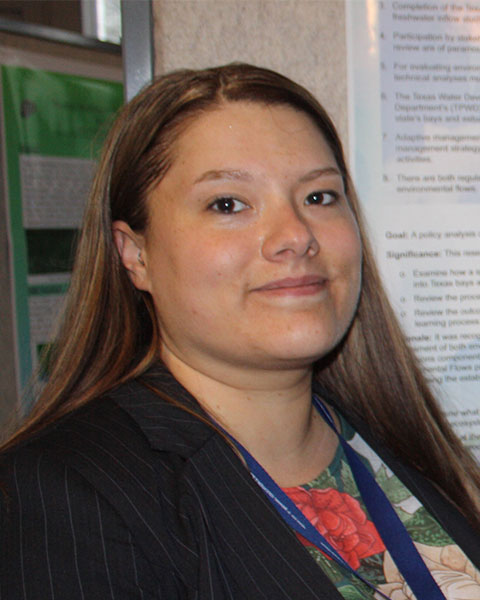 Elizabeth A. Del Rosario, MS
PhD Student
Harte Research Institute Gulf of Mexico Studies - Texas A&M University-Corpus Christi
Elizabeth Del Rosario, M.S., Ph.D. Student, Texas A&M University-Corpus Christi.
I received a M.S. in Environmental Science in 2016 from TAMUCC, a B.S. in Fisheries and Wildlife Science, B.A. in Biology, and minor in 2013 Natural Resources from the University of Missouri-Columbia.
I am a Ph.D. student in the CMSS (Coastal Marine System Science) program, and member of the Marine Policy and Law Group at HRI-Harte Research Institute for Gulf of Mexico Studies. My research focus is in marine policy with Dr. Richard McLaughlin and co-chair Dr. Paul Montagna. My emphasis area is in water resources management, freshwater inflow policy and regulation.
​I am a NOAA Educational Partnership Program (EPP) Center for Coastal and Marine Ecosystems (CCME) fellow.

Presentation(s):