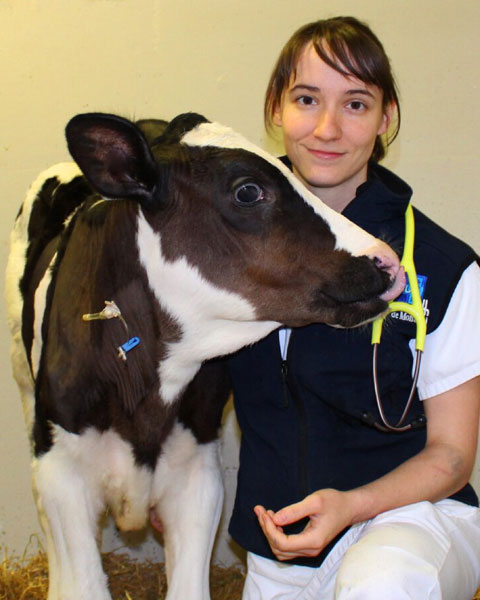 Caroline Constant, DMV
Université de Montréal
The face of the food animal production in Quebec is particular to our culture and different from everywhere else in the world. Living in a mainly dairy industry, I got naturally more involved and interested in that field of expertise. My main area of interest in the dairy industry is the curative side of the production. Veterinarians increasingly abandon this side of medicine but I think it remains one of the most important.
Following my years as a veterinary student at the Université de Montréal, I completed an farm animal internship before working worked in New Brunswick as a large animal veterinarian. It allowed me to develop a more precise passion of curative medicine being surgery. I Although I truly appreciated the proximity with the clients, I pursued my passion for surgery. I came back to the University of Montreal in January 2016 in a new role: bovine ACVS surgery resident. I'm also currently complete a Master program in the orthopedic field: cranial cruciate ligament replacement in cattle.
I belong to a group of outstanding interns and residents that are resourceful with a great team spirit. Being always surrounded by faculty member and boarded specialists, I have the opportunity to gain an incredible amount of knowledge as well as technical skills every day.
The career goals are to provide the state-of-the-art care to all my patients, practice a medicine with the highest standards possible and help to advance and improve veterinary medicine through teaching. I also wish to become a better leader to share my passion for farm animal medicine and surgery, to the height of the passion that was transmitted to me by my mentors at the beginning of my veterinary career.
Presentation(s):