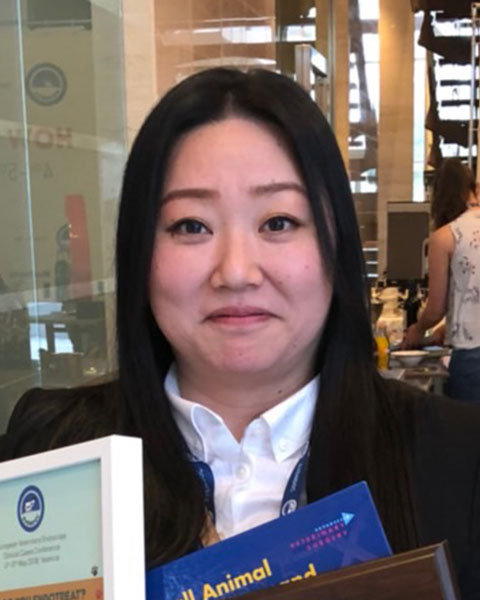 Kumiko Ishigaki, DVM
Nihon University
[Current Position]
Surgeon of Animal Medical Center, Department of Veterinary Medicine, College of Bioresource Sciences
Nihon University 1866 Kameino, Fujisawa, Kanagawa 252-0880, Japan

[Professional Employment]
2008​​ - 2009 Hospital doctor​ of ​​Shibusawa animal welfare hospital
2009 - present​ Surgeon, Animal Medical Center of Nihon University
2016 - present Research Fellow, Laboratory of Veterinary Surgery, of Nihon University
​
[CLINICAL SPECIALTY/BOARD CERTIFICATION]
Veterinary Licenses: Japan #42982, 2004

[BOARDS]
2017 - present Executive director(Japan Society for Veterinary Endoscopic Surgery)
2017 - present Executive board member(Japan Society for Veterinary Endoscopic Surgery)

[AWARDS]
2015​Best poster presentation award (European College of Veterinary Surgery)
2018​Best presentation award (European Veterinary Endoscopy Clinical Cases Conference)

[BIBLIOGRAPHY]
Publication in international journals:
1:Ishigaki K, Nariai K, Izumi M, Iida G, Teshima K, Seki M, Edamura K, Takahashi T, Asano K. (2016): Endoscopic photodynamic therapy using talaporfin sodium for recurrent intranasal carcinomas after radiotherapy in three dogs. J Small Anim Pract Mar 31. doi: 10.1111/jsap 12667.
2:Or M, Ishigaki K, de Rooster H, Kutara K, Asano K. (2016): Determination of Porto-Azygos Shunt Anatomy in Dogs by Computed Tomography Angiography. Vet Surg, 45, 1005-1012.
Presentation(s):