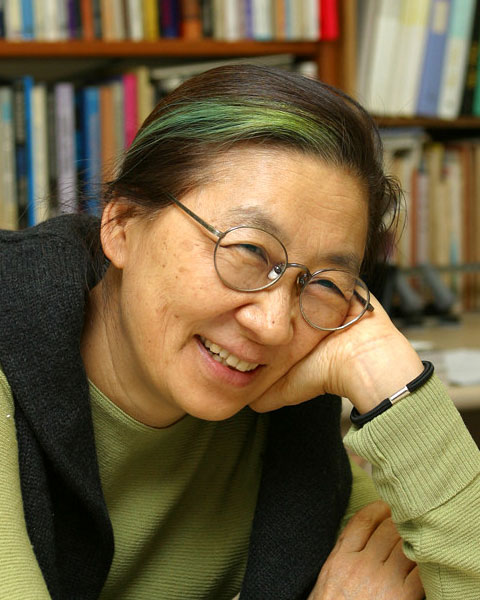 Haejoang Cho
Cho (Han) Haejoang is a cultural anthropologist and a leading South Korean public intellectual. She is Professor Emeritus of Yonsei University, living in Seoul.

Author of 12 books and numerous papers, co-founder of Another Culture in 1984, one of South Korea's most important feminist groups and publishing houses; founder of Haja Center in 1999, South Korea's first alternative cultural space for teens, Cho has been on the vanguard of feminist challenges to South Korea's cultural, education, and family lives. An insider ethnographer, Cho has attentively illuminated the changing landscape of contemporary South Korea. Her voice has been a brave and bold. Whether arguing that South Korea's first blockbuster film was anything but a uniquely "Korean" cultural product, or asserting that the so-called Korean Wave had best be appreciated as an embodiment of the West commercialism penetrating Korean bodies, Cho's writings have challenged not only cultural norms and the status quo, but even the prevailing voice of progressive academic community as well. Little is sacred in her keen social observations in her whirlwind tour of the recent history of South Korea where one of the world's most dizzying compressed development epics has unfurled. Cho's is a voice from the trenches of lives in a post-colonial, post-Cold War, and post-industrial era. The transnational coordinates of Cho's own career, from the height of Western-centered cosmopolitanism as herself an American Ph.D., to the burgeoning of a Pan-Asian cultural era in which she decided to never pen in English again, once again make Cho's a life and voice that not only reveals but literally charts history.
Major Publications: [Women and Men in South Korea] (1988); [Reading Texts, Reading Lives in the Postcolonial Era] in 3 volumes (1992, 1994); [Children Refusing School, Society Refusing Children] (1996); [Reflexive Modernity and Feminism] (1998); [Children Searching for School, Society Searching for Children] (2000); [Talking at the Edge: Letters Between Japanese and Korean Feminists] (2004, coauthored with Ueno Chizuko); [It's Life-Learning Village Again] (2006), and [Back to the Classroom: Reading Text and Reading Everyday Lives in Neo-liberal Era] (2009, coauthored) and [Betrayal of Effoort](2016, coauthored 2016). The previous are all in the Korean language. Two books have been translated into Japanese: [Korean Society and Gender] (Hose University Press) and [Can the Words Reach?] (Iwanami Publishers coauthored with Ueno).

Presentation(s):