‹‹ Go Back
Lakshmikumar Pillai, MD
Founder and CEO, Vascular Access Technologies, Inc., Morgantown, West Virginia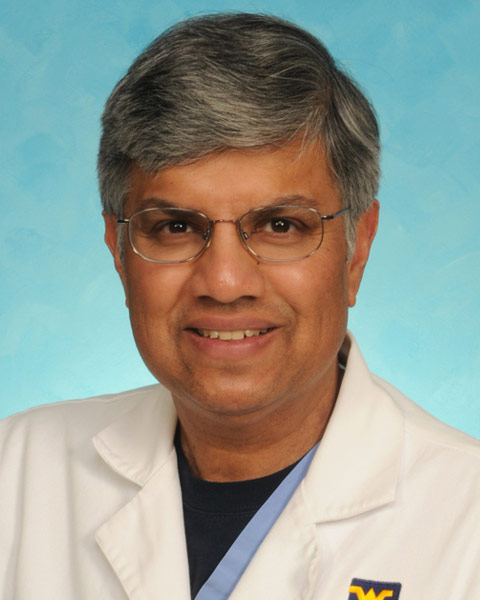 Lakshmikumar (KUMAR) Pillai is Associate Professor of Surgery and Chief of Vascular and Endovascular Surgery at the West Virginia University Medical Center in Morgantown, WV. He is a graduate of the West Virginia University School of Medicine Class of 1984. He has been a practicing Vascular Surgeon for over 20 years and has had longstanding interests and experiences in the area of Vascular Access placement and related complications. He started Vascular Access Technologies, Inc. in 2010, which was an early stage medical device start up, in order to bring a new safer central venous access technology to the bedside.
Risk Reduction Track
F101 – Oral Abstract Presentations (F101)
Inadvertent Great Vessel Arterial Cathetertization During Ultrasound Guided Central Venous Line Placement -- A Potentially Fatal Event
CE Hours: 1.2 per four (4) 15-minute sessions
Founder and CEO, Vascular Access Technologies, Inc., Morgantown, West Virginia
OBJECTIVES: To review the incidence, and outcome of inadvertent subclavian and carotid artery catheterization (with arterial catheter placement) during central venous access which required repair. METHODS: 5-year retrospective review. RESULTS: From 2005-10 a total of 10,731 central venous access procedures were performed. There were 132 (1%) hemo/pneumothoracies. In 8 patients there was arterial catheterization (7 subclavian/ 1 carotid)requiring open and/or endovascular repair. All 8 were done under "ultrasound guidance". Eighty-eight percent (7/8) were successfully repaired. 5 (71%) were repaired using endovascular methods and 2 (29%) using open surgery. The remaining injured vessel did not require repair. However, 38% (3/8) of the patients still subsequently expired– two deaths occurred in the patients who had undergone open repair of artery injury (1 subclavian/ 1 carotid). All deaths were related to the initial injury. CONCLUSIONS: Though rare arterial catheterization during central line placement is a morbid and fatal event in 38% of the patients in this study. Endovascular repair of these injuries appears to have better outcome. Although ultrasound guidance is the preferred method of jugular venous imaging during central vein catheterization, in this review it did not prevent inadvertent arterial catheterization and may have imparted a false sense of security.
Learning Objectives:

Identify the most common complication related to central venous access placement.
Appreciate the highly morbid nature of inadvertent central arterial catheterization.
Realize that ultrasound guidance may impart a false sense of security.