‹‹ Go Back
Jona Caparas, MSN, RN, VA-BC™
IV/PICC Team Coordinator, New York Presbyterian Queens, Yonkers, New York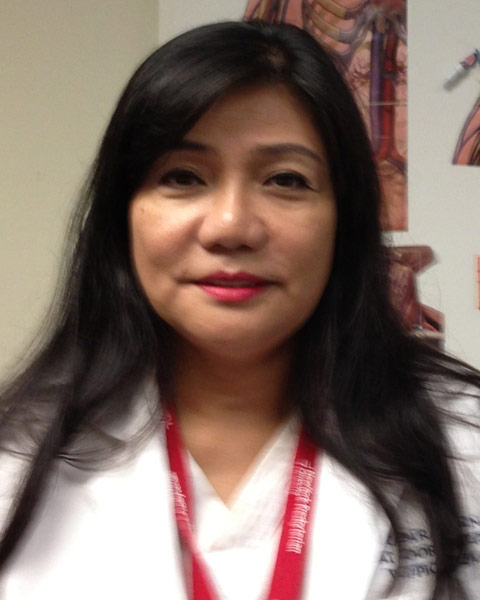 Professional Summary Jona Caparas has over 29 years of nursing experience, 25 of these are on infusion therapy in various setting, as well as radiology, oncology/bone marrow transplants, orthopedics and pediatrics.She also implemented the first Rapid Response Team in a Long Term Care Facility. She is currently the IV/PICC Team Coordinator, Infection Control Dept at New York Presybyterian Queens,New York, managing the Vascular Access Team, provides both educational and hands-on training in placing Midlines and PICC lines, and care of the catheters. She is an active member of Infusion Nursing Society, both nationally and locally, Association of Vascular Access, New York State Nurses Association and Board of Director of Philippine Nurses Association-NY, and a lecturer on IV Insertion and vascular access care. Jona is the President of the Association For Vascular Access New York Metro Network (AVANY).
Research Track
K105 – Research Roundtable: Creating Evidence
Safe Administration of Vancomycin Through a Novel Midline Catheter: A Randomized, Prospective Clinical Trial
CE Hours: 1.2 (with K105-I)
IV/PICC Team Coordinator, New York Presbyterian Queens, Yonkers, New York
This session begins by exploring the 13 references cited by INS in support of the 2011 Standards of Practice's pH restrictions. The discussion then broadens to the English literature from 1943 to present, exploring whether pH is really an independent causal factor in infusion phlebitis. Finally, as an example of a low pH medication, the discussion focuses on the peer-reviewed published literature--in vivo and in vitro--on peripheral vancomycin administration.
Learning Objectives:

Understand the evidence or lack thereof behind the INS Standards pH restrictions.
Understand the literature on pH as an independent causal factor in infusion phlebitis.
Understand the literature on vancomycin administration via peripheral venous access.
Recognize recent prospective randomized controlled trial on short-term vancomycin via PICC versus midline.