‹‹ Go Back
Andrea K. Owens, MSNEd, RN, CRNI®, VA-BC™
Assistant Professor, Marian University, Leighton School of Nursing, Indianapolis, IN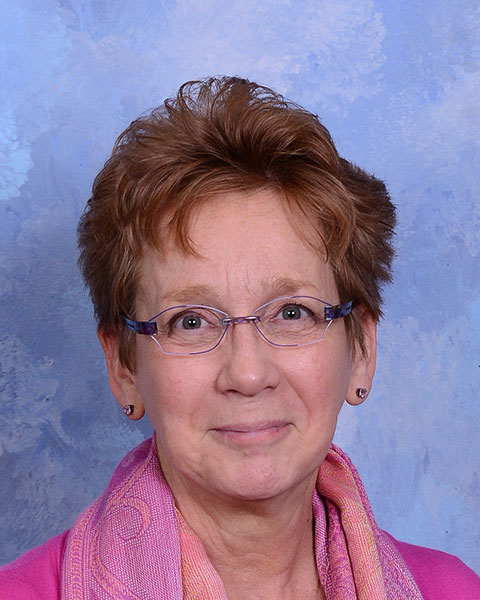 Andrea Owens (affectionately known to her colleagues as Professor Grizz) is currently an Assistant Professor at Marian University, Leighton School of Nursing in Indianapolis, IN. In addition to her Course Lead and clinical duties, she is a passionate advocate for curriculum development related to skills acquisition and critical knowledge for nursing students learning vascular access care & maintenance. Her career has spanned 38 years in medical/surgical Critical Care, vascular access and infusion therapy, clinical education, and higher education. She has held positions of leadership at the local, state and national level as a nurse in her specialty practice. She is a current Director-at-Large on the AVA Board of Directors.
‹‹ Go Back
Barbara Monson, BSN, RN, CPUI, CRNI, VA-BC
Barbara Monson, Vascular Access Clinician/Infusion Center, Community Westview Hospital, Indianapolis, Indiana
Barbara Monson has over 20 years of hospital experience as a IV Therapy and PICC Line nurse and has provided clinical services in a variety of hospital, nursing home, and community settings. She has her BSN and is a Certified Registered Nurse Infusionist. Additionally, she is Board Certified by the Vascular Access Certification Corporation and is very experienced in the use of ultrasound. She has extensive experience in developing new clinical services and educating nursing and other staff members.
Advancing Vascular Access Track
H103 – Oral Abstract Presentations (H103)
CAJ Without CXR: One Small Hospital's Journey to Change the Paradigm in Peripherally Inserted Central Catheter Tip Termination in Adults
CE Hours: 1.2 per four (4) 15-minute sessions
Andrea K. Owens, MSNEd, RN, CRNI®, VA-BC™
Assistant Professor, Marian University, Leighton School of Nursing, Indianapolis, IN
Barbara Monson, BSN, RN, CPUI, CRNI, VA-BC
Barbara Monson, Vascular Access Clinician/Infusion Center, Community Westview Hospital, Indianapolis, Indiana
Advances in central catheter placement technology have presented clinicians and facilities opportunities to aggressively challenge the gold standard paradigm of utilizing chest radiography for central catheter tip termination identification. With the primary intent of improving patient outcomes, providing evidence of cost savings, and eliminating the required chest x-ray after catheter placement, the vascular access team requested permission to trial the vascular positioning system which utilizes intravascular Doppler, ECG and a patented algorithm to verify the catheter tip termination. A proposal, with required policies, was presented to the Medical Executive Board. A Hospitalist physician champion joined the team to support the process and facilitate education with a multidisciplinary group of professionals. All catheter placements were tracked and data entry specific to the proposal outcomes was gathered. This included length of the catheter, placement site, evidence of Bluebullseye, radiologist reading the radiograph, and final tip termination decision. Data for 84 catheter insertions was tabulated along with projected cost savings. A direct correlation to Bluebullseye and tip confirmation by the attending radiologist was presented. A conservative cost data analysis resulted in savings of $11,000. Board decision was unanimous. Vascular lines which meet the parameters are now released for use immediately after placement.
Learning Objectives:

Identify strategies for multidisciplinary collaboration to improve patient outcomes.
Discuss objective data collection measures to facilitate change.
Modify the presented plan for implementation in a vascular access department or program.